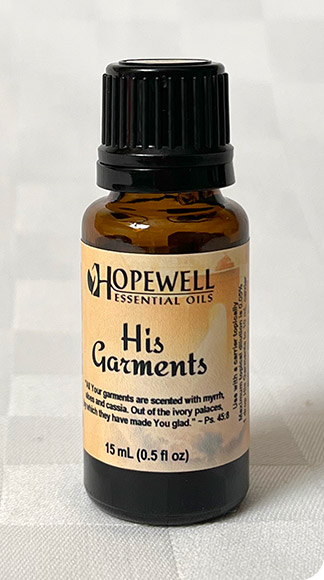 The Aroma of His Garments
Working with essential oils on a daily basis, we have marveled at the variety of beautiful aromas and healing properties the Lord has invested in these tiny molecules. After creating a new blendone day I asked my young daughter to smell it and offer her opinion. Her response: "Oh, that smells like heaven!"
Perhaps heaven will have the sweet aroma of His wonderful essential oils. Psalm 45:8 speaks of the garments of the Lord having the aroma of myrrh, aloes and cassia, a blend of oils high in sesquiterpenes, which are said to aid immune system support.
Myrrh is antiseptic, balancing to the thyroid and endocrine system and supports the immune system. Both Myrrh and Aloes (Sandalwoods) are high in sesquiterpenes, and their ability to repair DNA help facilitate healing that is permanent. Aloes also stimulate the release of melatonin, which enhances deep sleep, and Cassia was part of the holy anointing oil blend the Lord gave to Moses (Exodus 30:22-35). It also offers immune system support.
We recently formulated this special blend and call it
"His Garments."
Your throne, O God, is forever and ever; A scepter of righteousness is the scepter of Your kingdom. You love righteousness and hate wickedness; Therefore God, Your God, has anointed You with the oil of gladness more than Your companions. All Your garments are scented with myrrh, aloes and cassia. Out of the ivory palaces, by which they have made You glad. ~ Psalm 45:6-8 (see also Hebrews. 1:8-9)
In this season where people reach out to others with love and generosity, we get many inquiries asking us for gift ideas. Besides choosing an oil or blend that is just right for a loved one, we have the following that we hope will be a blessing.
May your celebration be very special!
Blessings,
Linda