Natural Pain Relief with Essential Oils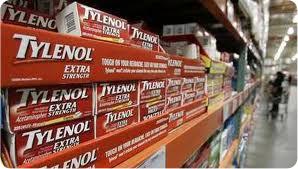 A recent article by Serena Gordon from theHealthDay Reporter, quoted John McBride, M.D.: "I think we owe it to our patients and their parents to make it clear that maybe acetaminophen [Tylenol] is bad. And, if there are alternatives, people might want to use those alternatives until they know acetaminophen is safe. [S]ome researchers believe acetaminophen increases airway inflammation in people with asthma or a predisposition to the breathing disorder." McBride said that the evidence is stronger that acetaminophen exacerbates current asthma, but that there's also evidence that it may be a cause of asthma, too. 

For more information about the dangers of using Tylenol: 
Little Known Dangers of Acetaminophen (Tylenol) by Life Extension Magazine 

Thankfully, essential oils offer a safe, natural and effective alternative to toxic drugs such as Tylenol. (The label on the box of Tylenol states that it is toxic to the liver.) We've found that just a few high-quality essential oils can be used for a myriad of common ailments. 

• Arthritis - Pain-X, Peppermint or Birch applied topically as desired 
• Back Pain - Pain-X, Muscle Relax or Peppermint applied topically as desired 
• Earache - Lavender, Tea Tree or Cleansing, diluted and gently massaged around the ear and down the neck. Earache Relief blend has been very effective. 
• Ear Infection - Ear Infection blend works well. A drop on a cotton ball in the ear opening eases the pain (never drop essential oils into the ear). Research shows that Basil is very effective for ear infection. Ear Infection blend combines Basil and the penetrating power of Helichrysum blend with Emu oil for a very effective remedy. 
• Fever - Fever indicates that the body is working to defend itself from the invader. If the fever regulator allows it to soar too high, Peppermint, appropriately diluted applied to bottoms of feet may help to reduce it. This can be repeated every 10 minutes if necessary. Caution: Do not apply Peppermint near the face of a child Peppermint can reduce milk supply if used on a regular basis, and it's not recommended during pregnancy. If pregnant, don't apply to the abdomen. 
• Headache - Peppermint, Headache Relief or Pain-X applied to temples (avoid the eyes) and back of neck.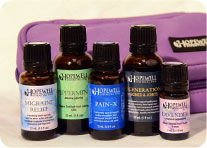 • Menstrual Cramps - Woman Ease blend has helped many with this issue. 
• Migraine - Lavender, Peppermint, Basil, Headache Reliefor Migraine Relief applied to temples (avoid the eyes) and back of neck. 
• Muscle Aches - Peppermint, Birch, Pain-X or Muscle Relaxblend are all soothing and effective. 
• Sinus Issues - Myrtle can be swabbed in nostrils,Respiratory Relief is effective topically and in a diffuser or inhaler and Nasal Rescue can be added to a nasal rinse or a neti pot. 
• Sore Throat - A drop of Plague Defense in a glass with just enough water added to gargle. Gargle and swallow (avoid getting this on the lips). Apply Plague Defense to the bottoms of feet and diffuse. Alternatively, Tea Tree can also be gargled. 
• Toothache - Clove or Plague Defense on the gum. Pain-X appropriately diluted on the jaw. 

This list covers some common acute health issues where people have reached for Tylenol. For chronic issues where long-term use is desired, please consult your heath care provider. 

Click here for the most common health care topics that we are contacted about and testimonies using essential oils as alternatives. Testimonies are perhaps the best way for others to find the answers they are searching for. If you have testimonies you'd like to share, we'd love to add them.