About Us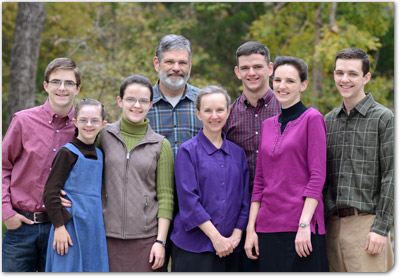 I'm Linda, wife to a wonderful husband and mom to eight children. My introduction to using essential oils came through a friend who wanted to help me with a painful, stiff neck. I'd been to a chiropractor that looked at my x-ray and said he'd never seen a neck that bad on anyone my age. (I was 46 at the time.) He said he might expect to see a neck like mine on a ninety-year-old woman and wondered how I coped with it. He thought he could get me out of some pain but otherwise didn't offer me much hope. I let him work on me for a couple months and quit because there was no relief or progress being made.
A close friend suggested I try Peppermint essential oil. She had terrible allergies and could only use the "best" and purest of anything, and the oil she offered me was the highest quality she was aware of. I loved it. I used Peppermint liberally all day long. I put it in a roller-ball applicator and kept it in my pocket so I could rub it over my neck whenever I wanted to. It really helped me deal with the pain, but what I didn't realize is that it was increasing circulation, reducing inflammation, which served to aid in the healing. After six weeks of what had initially been heavy use, I realized that I rarely even thought of using it. My neck was hardly ever in pain, and I had almost regained full range of movement.
My next major experience with the oils came when my 6-month-old baby got the whooping cough. She was very sick. My "essential oil friend" did some research for us and suggested a few oils for us to try. Eventually we purchased a diffuser and diffused a blend of Eucalyptus oils along with Peppermint, Lavender and a few others (now our Respiratory Relief blend). Not only did this blend seem to help my daughter a lot, but also as a side benefit, after diffusing it for about six weeks in our bedroom (for my daughter), I realized that my lungs, which had been compromised by pneumonia six years prior, had full capacity to take in a breath again. I was very impressed.
Over time, I shared my testimony and enthusiasm with my friends who also found the oils to be very beneficial. I purchased several books and gained a basic, foundational knowledge about the use of the oils, and much of what I learned initially came by the experience I gained by helping my family and close friends. I also found by experience that the quality of an oil really does make a difference. For example, the Peppermint brand purchased at the local drug store had no effect on poison ivy, but our high-quality Peppermint dried it up quickly.
As I and my friends and family had good experiences with using the oils, we'd share our testimonies and experiences with others. Before long, I was purchasing a LOT of oils for everyone from the MLM company I was initially introduced to. I was encouraged by close friends that, since we own a little store, have a wholesale license and enough volume of "sales," perhaps I could source high-quality oils and blend them myself, therefore saving all of us a lot of money. I was skeptical at first that I would be able to locate top-quality oils. I didn't want to sacrifice the quality I was used to and comfortable using on my family for economy. I called the company where we were getting the oils we used and asked them if they were the only company who had access to the best oils, and their representative said, "We cannot say that we're the only company who has the best oils, but we do believe that our oils are pure and meet very high standards." After quite a bit of prayer about it and searching, the pieces to the puzzle came together for us in October 2004. We believe our oils are among the safest and most beneficial essential oils available.
Over the years I have taken classes from those we consider the best in the aromatherapy field: Robert Pappas, Kurt Schnaubelt, Robert Tisserand, Andrea Butje and so on. Our goal is to provide the highest quality oils we can find so that just about anyone can afford these wonderful, pure (no chemicals used in growing or distilling), high-quality (harvested and distilled with therapeutic properties in mind). See our Statement of Quality at the bottom of this page. We blend and bottle the oils and find a lot of fulfillment in what we do. Several of our children are now involved in some way to help us keep track of inventory, place orders and they especially love to "test" my new blends.
If we can help provide information or testimonies that will lead you to choose an essential oil or blend that will ultimately bring you or a loved one into a better place of health -- we are richly blessed.
Many blessings to you!
Linda, family and the HEO crew
Statement of Quality
Hopewell Essential Oils insists on using only the finest quality, pure essential oils available because we expect them to be used therapeutically. We select Certified Organic, Organic (same as certified organic except not certified), Wild Crafted (self-propagating, uncultivated, grown and harvested by hand in the wild), and ethically farmed essential oils. Hopewell Essential Oils are GC/MS analyzed and pesticide free. Our essential oils are subjected to rigorous mass spectrometry and gas chromatography testing to ensure exact composition and activity. We believe our oils are among the safest and most beneficial essential oils available.
Our essential oils are GC/MS analyzed for quality assurance and meet strict aroma and analytical requirements before they are accepted for purchase. Analysis of Gas Chromatographs (GC) provides valuable information about the nature of the pure essential oils that we purchase from around the world. GC's usually vary from batch to batch due to climate conditions and location in which the plant was grown and harvested. While we recognize that conditions and GC's may vary, there is a standard of value that each oil must meet to pass the "test" of highest quality and effectiveness.
Click here to read Quality is Essential