Essential Oil Guidelines for Babies and Children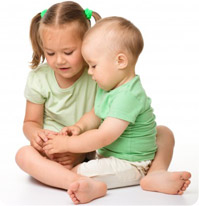 General Guidelines

Quality: The quality of the essential oils matters. Choose premium-quality oils for all applications.
Dilute: Essential oils are typically used very diluted for babies and young children, and we avoid using oils on a newborn unless there is a real need to do so. For an infant to 3 months, we will use 1-2 drops of essential oil to an ounce of a suitable carrier such as coconut, olive, avocado or almond oil. For general dilution guidelines, see the dilution chart on the Oil Usage page.
Test: Always test your application on yourself first and then on a very small area on your baby to be sure their skin will tolerate it.
Ouch!: If the dilution rate is not adequate, the baby's skin may redden and become hot. Dilute this effect by adding more carrier oil. Water does not dilute or reduce the effect but rather may intensify it.
Chronic Illness: For chronic issues, when you'll be applying the oils for a length of time, consider using more dilution and rotating through application sites. Essential oils are generally metabolized and eliminated in 1-2 hours, so reapplication for acute needs may be beneficial every couple hours.
Infection: Apply appropriately diluted oil to the spine, torso or bottoms of the baby's feet, then cover with socks.
Respiratory: Apply diluted oil to the baby's chest and/or back.

Diffusing
- Diffusing the oils in a baby's room is an effective way for the baby to inhale the beneficial molecules, providing anti-septic, anti-inflammatory, anti-viral, anti-bacterial and anti-fungal properties.
- There is no need to blast the room. Run the diffuser so that when you walk in, the essence of the aroma is noticeable, but not overpowering.

Quick-glance, printable chart: General Guidelines for Essential Oil Usage on Babies and Young Children